3HDV/140 Triple Combination Head Welder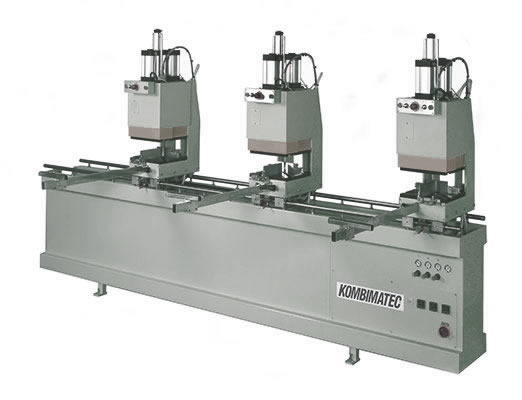 For Vinyl/PVC Profiles
Description:
3HDV/140 Triple Combination Head Welder for corner, transom & cruciform joints, two square welding facility, max profile width 150 mm, max. profile height 140 mm, max. welding length 3750 mm, 2.0 mm weld bead limitation, solid steel construction, overhead safety clamping, overhead heater plate, 2 hand safety control, Mitsubishi controller, support arms.
Features:
All combination heads designed to produce corner, transom and cruciform joints in window and door profiles. Adapts quickly and easily without the need of tools. Rear fences line up automatically due to chassis linked permanent stop to avoid gathering the heads together for re-alignment and eliminating the need of a straight edge setting device. Utilises support blocks with magnets and special shouldered setting screws to allow quick removal and refitting. No time consuming hand wheel adjustments. All movements are made with smooth linear bearings and hardened steel shafts. Automatic head movement locates the profile providing consistency, speed and ease of loading. Avoiding possible irregular contact of profile to setting plate of a hand positioned head. Spring-free heater plate float removes bias melt to one side. A small miniature cylinder centralises the heater plate when necessary. Small footprint only 4.0 m long. Ideal for small sashes and transom drops down to 325 mm. Fast operating cycle due to solid wide setting plate eliminating the initial table movements completely saving time. Designed to be easy to use and simple to maintain. Safety clamp, two-hand control and full compliance with CE regulations.
Other versions available include Single, Two and Four Head machines.
Technical Data:
Type 3HDV
Mains voltage 400 V, 3~, 50 Hz
Total Amps 9 A Power output per head 2 kW
Compressed air connection 7 bar Air consumption per head 40 ltr per welding cycle
Weld bead limiters 2,0 mm Burn-off 6,0 mm Temperature of heater plate 200-300C
Dimensions (Length, width, height) 4000x900x2100 mm
Weight 850 kg
Order No. Type 3HDV/140 Type 3HDV/200 Type 4HDV/140 Type 4HDV/200
Standard accessories:
Set of support arms
Teflon cover for heater plate
Air service unit
Instruction manual
Optional accessories:
Tool shelf
Variable angle fence
Weld bead limiters 0,2 mm
Burn-Off 5,0 mm
Teflon Cover for heater plate
Outer contour limiters (to suit profile)
You may be interested in