AMC940 CNC Machining Centre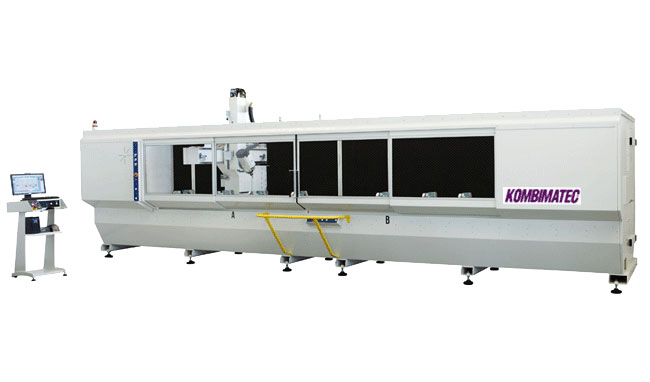 For Aluminium and Vinyl/PVC Profiles
Description:
AMC940 Automatic Machining Centre, controlled via dedicated PC program with easy to use CADCAM software and windows 7 interface, Electro welded solid steel construction, Axis movement on linear guides and re-circulating ball screw, Work processing from 0 to 180 and intermediate degrees by means of spindle rotation, secondary spindle rotation 0 to 360, 5x cnc controlled axes, 4x pneumatic clamps with automatic and controlled positioning as standard, 12 kw electro-spindle with cone type HSK63 - 22000 r.p.m.- liquid cooled.
X axis stroke (length) = 7000/9400 mm, Y axis stroke (width) = 500 mm, Z axis stroke (depth) = 200 mm, X axis speed = 70 mt./min., Y axis speed = 50 mt./min., Z axis speed = 30 mt./min., Automatic tool changing with 18 locations within tool cabinet, Plus 1 for 450mm dia. Saw blade, Possibility to work profile bars that are longer than the machine.
Standard Equipment:
Automatic End Stop
Nr 2 cones type HSK63
nr 2 collets 8 mm
Automatic lubrication by means of nebulizer
Air filter
Service spanners
Optional Equipment:
Bar code reader
Supplementary HSK63 cones
Supplementary spindle collets
Supplementary standard clamp
CADCAM software for Offline Programming
UPS (Uninterruptable power supply) device
Additional End stop
Pendulum working cycle modification
Thread compensator
Spindle for side milling cutter
Side milling cutter
Special tool - as required.
Technical Data:
Voltage: 415 Volts, 3~ plus earth and neutral
Compressed Air: 7 bar, 100 psi
Overall dimensions 869x206x270 cm
Weight (including Packing) 7,200 (8,300)Kg.
You may be interested in