EV475 CNC Corner, Transom and Cruciform Cleaner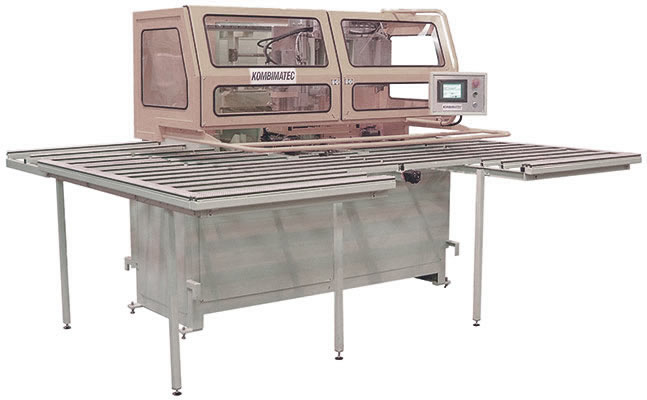 For Vinyl/PVC Profiles
Description:
After 25 years of manufacturing window machinery, Luton-based company Kombimatec is pleased to introduce the all new EV475 6 Axis CNC Corner, Transom and Cruciform Joint Cleaner.
It is the fastest and most reliable of its kind to be built by Kombimatec.
Fastest Ever Cycle Time!
Two separate sets of cleaning tools, each with their own independent programmable movements, can work on both sides of the joint at the same time. This means transoms and cruciforms can be cleaned in one complete clamping sequence, dramatically speeding up the overall cycle time.
Click below to watch demonstration video:
Solid Design
The solid design means the machine doesn't vibrate when in use, giving a high quality, and far smoother finish. The reduced waggle allows the tools to begin working as soon as they are in position without pausing to allow any resonations to subside, which also contributes to the fast operating speed.
Compact and Adaptable
Ideal for cleaning any type or size of welded joint, the EV475 has a minimum frame size or transom drop of just 30cm. Frames are passed through the machine parallel to the table rather than at a diagonal, giving far better support to the frame whilst also saving space in the factory.
Reduced Risk of Operator Error
By using state of the art technology, the EV475 identifies profiles and wood grains; this reduces the amount of manual work and eliminates the risk of manual errors. Profile recognition programs, linear transducers, laser detectors and wood grain detectors all work hard to ensure a quality, mistake free finish.
Reliability Driven by a Mitsubishi closed loop CNC control system and fitted with three phase motors, the EV475 has proved to be both reliable and efficient.
All machines come with a 12-month parts and labour warranty and we provide regular contact visits for your piece of mind!
Standard Features:
2 Inverter driven high speed milling motors with blades
2 Router units fitted with 8mm collets
8 Tooling stations for knives
Profile identification system
Optional Features:
Up to 6 additional tooling stations
Special tooling manufactured to suit profiles being used
Programming of cleaning recipes
Technical Data:
Voltage 400/440v, 3 phase, 18 amps
Compressed air supply 6 bar min.
Air consumption 120 litres per cycle max.
Footprint 346 x 281cm
You may be interested in