AVN4 Vertical Vee Notch Saw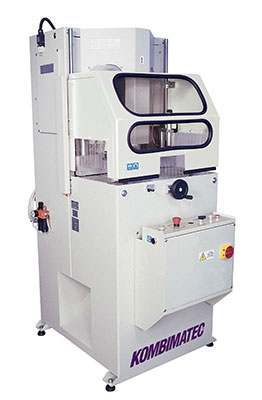 For Aluminium and Vinyl/PVC Profiles
Description:
AVN4 Automatic Vee Cut Saw comes with: 2x 400mm dia. TCT Saw blades, automatic safety guard, two button safety start, 1.5m Measuring Length stop and support. Floor standing.
Features and Benefits:
Stop for lining up to cruciform cut.
Vertical design prevents frequent adjustment of the support stand every time a v notch depth is adjusted.
Compact design saves floor space.
Technical Data:
Saw Blade Diameter 400mm
Blade Shaft Diameter 30mm
Voltage 380-415 v, 3~, 6 amps
Compressed Air 7 Bar/100psi
Air Consumption 10 Ltr. Per cycle
Dimensions (length, depth, height) 540 x 1000 x 1150mm
Weight 110KG
You may be interested in