EV345 Double Sided Groover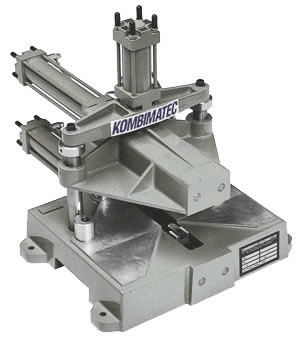 For Vinyl/PVC Profiles
Description:
EV345 Double Sided Feature groover is perfect starter machine for cleaning the top and bottom surfaces of window and door profile. Complete with cutters and actuation footswitch this model is robust and can easily be positioned anywhere in the factory. Bench Mounted version. Stand is optional.
Features and benefits:
Low cost economical corner groover for PVC profiles.
Grooves top and bottom surfaces of a welded corner at the same time in one operation.
Automatic clamping and grooving cycle initiated when the frame is inserted.
When used in conjunction with the Kombimatec AFV360 Corner Miller it offers a cost effective solution to cleaning corners of welded PVC frames.
Supplied with standard grooving knives
Solid cast aluminum construction for durability.
Technical Data:
Stroke 180mm
Max. profile width 120mm
Min. profile clamping height 35/50mm
Max. profile clamping height 85/100mm
Min. frame size 33x33 cm
Compressed Air connection 5.5 Bar/80 psi
Air Consumption 20 Ltr. per cycle
Dimensions (length, depth, height) 70 x 52 x 52 cm
Weight 30 Kg
You may be interested in