EV443/30 Corner Cleaner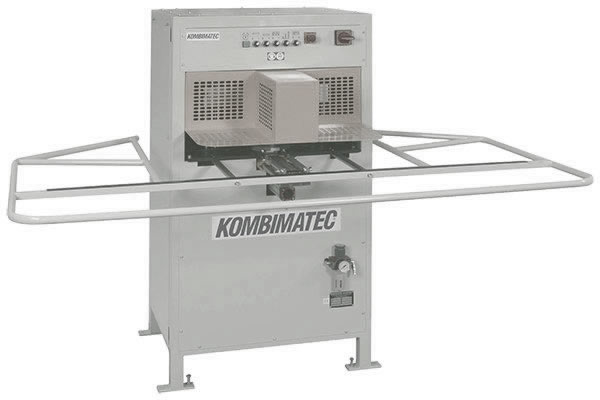 For Vinyl/PVC Profiles
Description:
EV443/30-32 Corner Cleaning Machine: With 2,5 mm knives (2-off) Profile support arm (1-off) Air service unit
Features and Benefits:
Automatically grooves both top and bottom profile faces and mills outside edge in one operating cycle.
Type EV443/32 also drills gasket slot groove.
Once set the automatic profile identification facility selects the correct program cycle for each profile.
Total flexibility with full operation or isolation of individual functions.
Variable milling cutter dwell time for optimum performance.
Single side grooving selection for wood grain, foil or acrylic covered profiles.
Small footprint measures only 860 mm x 980 mm.
Typically accommodates frames down to 25 cm.
Takes profiles up to 125 mm wide.
Multi-position spindle takes up to 3 milling cutters. Independent cutter shaft mounting with flexible drive eliminates motor strain.
No cutter matching. Computer controlled. One touch locates frame and starts cutting cycle.
Technical Data:
Milling Cutter min. dia. 80 mm
Milling Cutter max. dia. 200 mm
Cutter bore 32 mm Knife 2,5 or 3,5 mm
Mains voltage 220/380, 3~, 50 Hz,
6/3, 5A Power output 1,5 KW Milling spindle 2800 rpm
Compressed air connection 7 bar/100 psi Air consumption 60 ltr per cycle
Dimensions (Length, width, height) 980 x 860 x 1545 mm
Weight 420 Kg
Optional accessories:
2,5 mm knife
3,5 mm knife
Special cutter set (to suit profile)
You may be interested in