PBM1 Profile Bending System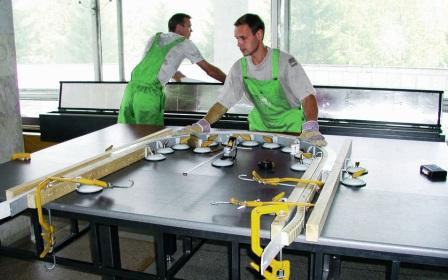 Description:
Heating chamber - 3600mm length, with opening covers at both ends to allow the working of 6-6,5m lengths. Includes Bending table - 2800x1830mm, 18x Clamps , 6x frames clamps, compass with measuring tape, Heating gun, 4x Supports for long arches, and special former beads.
Features and Benefits:
High efficiency infrared heaters improve performance and cycle time.
Arches from 400mm to over 5000mm radius.
Compact design to save space Proven bending system used worldwide
No mess, so no special facilities required.
No oil required the process is completely dry.
No ongoing costs for special oils.
No heavy steam (therefore leaves no oily residue on everything in the vicinity).
No water tanks needed to wash away the oil after forming.
No protective clothing required, apart from special gloves, which are included.
Technical Data:
Forming Table (length, width) 2800mm x 1830mm
Voltage 230 V / 50 Hz Power 4KW
Working Temperature 140-155C
Weight 150 KG
You may be interested in