AMC602 CNC Machining Centre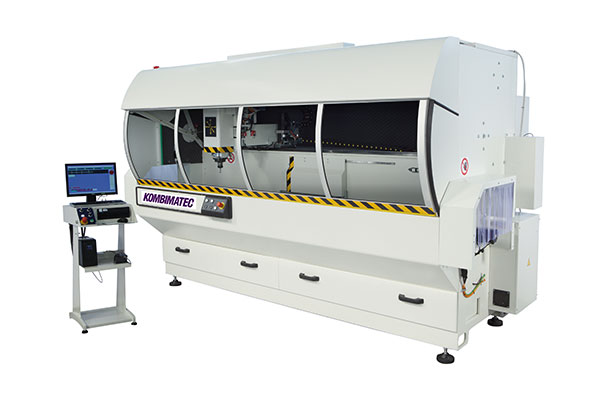 For Aluminium and Vinyl/PVC Profiles
Description:
The AMC602 Machining Centre has been designed to process extruded aluminum and pvc profiles for roofs, conservatories, curtain walling, and window and door systems.
Manufactured from solid steel construction the machine utilises advanced cnc control combined with 3D CAD software to position the electro spindle and selected tool to work on the selected profile.
The machine will easily rout drainage slots, hinge/lock cut outs, keyholes, drainage holes, letterboxes as well as drill holes and end mill at pre-programmed positions.
The machine includes:
Industrial control unit for accurate positional control
PC interface with 3D CADCAM software
Electro-welded Solid Steel Construction.
Axes movements on linear guide rails and re-circulating bearings
4x Controlled Axes
4x Adjustable pneumatic clamps
Automatic clamp detection via photo electric sensor
Electric motor 5.5Kw with ISO30 Cone Systemmax 12000rpm
Automatic tool change system and storage
Tool Cabinet with 7 tool locations as standard
Ability to process profiles longer than the x-axis capacity of the machine.
Ability to process pieces from more than one origin. (offset)
Machine fully enclosed with automatically hinging guard for safety.
2x ISO 30 Cones (tool holders)
2x ISO 30 Collets
Instruction manual and CE Mark.
Options:
Versions available 2500mm, 3000mm and 4000mm (x axis stroke)
Intermediate degrees
Bar Code Reader
Additional ISO30 Cone
Additional collet
Thread compensator
Spindle for side milling cutter (end milling)
Side Milling cutter 100x6mm
Special Cutting tools as required.
Inverter for 18000rpm
Offline programming software for office PC.
Tool Cabinet with 10 tool locations.
UPS Uninterruptable Power Supply
Second stop fence on RHS
Anti-vibration feet.
Automatic positioning system for clamps
Modification for double workstation.
Technical Data:
Longitudinal stroke (X axis) 2500 or 3000 or 4000mm Versions
Side stroke (Y axis) 400 mm
Vertical stroke (Z axis) 300 mm
Electro-spindle ISO 30, Motor 5,5 kW
Voltage 400v, 3~, 50 Hz
Compressed air 7 bar
Dimensions (length, width, height) 3780 / 4280 / 6330 x 1940 x 2130 mm
Weight 2085 / 2500 / 3100 Kg
Click below to watch demonstration video.
You may be interested in